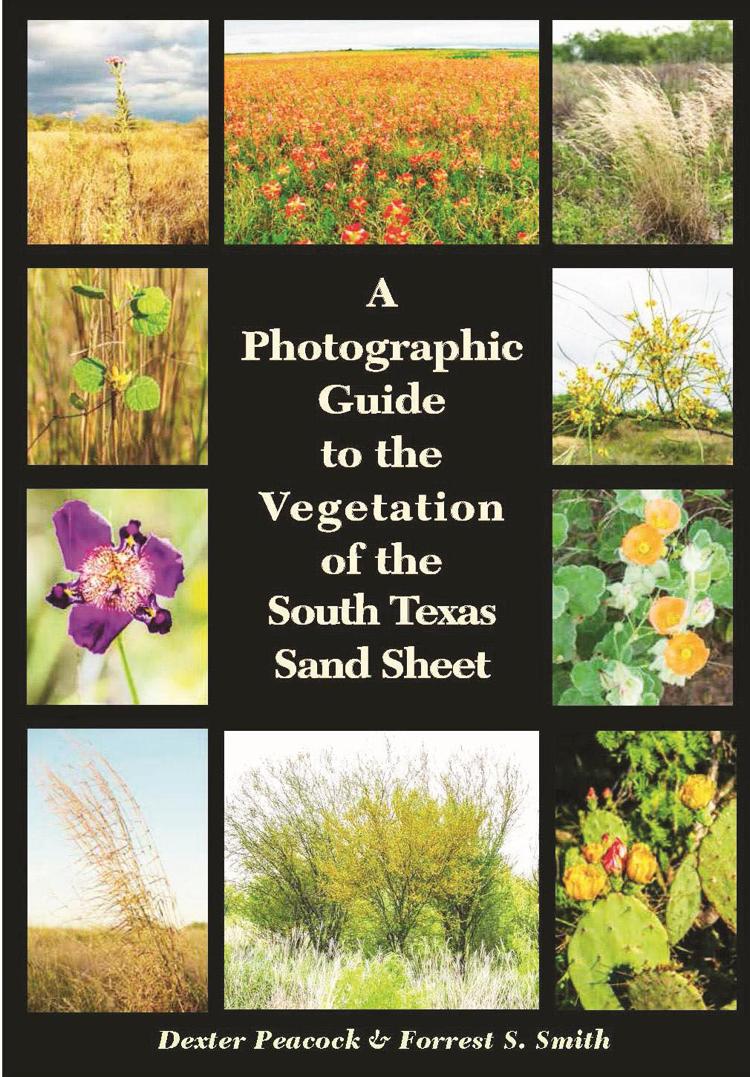 A field guide featuring information and photographs of hundreds of plants and grasses found in the South Texas Sand Sheet, co-authored by Caesar Kleberg Wildlife Research Institute program director Forrest Smith, was published last month and is now available for purchase.
"We're very happy with it," co-author Forrest Smith said. "It's a good-size book that's not a burden to carry around or throw on your truck dashboard and put it to use. That's what it's meant for."
Spreading across several area counties, including Kenedy, Kleberg, Brooks, Star, Hidalgo and Willacy Counties, the South Texas Sand Sheet consists of sand and silt brought inland by the wind, creating a mix of wetlands and desert terrain that serves as a habitat to a variety of diverse plant life.
"It's a region dominated by large ranches that are very conscious of the value of wildlife and habitat conservation," Smith said. "So as a result, it's probably one of the most intact natural systems in Texas at that scale."
Smith is the Dan L. Duncan Endowed Director of the South Texas Natives and Texas Native Seeds projects at the Caesar Kleberg Wildlife Research Institute.
Along with co-author Dexter Peacock, a retired lawyer, rancher and Sand Sheet landowner, Smith said it took the pair more than four years to complete their book, "A Photographic Guide to the Vegetation
of the South Texas Sand Sheet."
"We went out to fields and ranches numerous times in different seasons and different years," he said. "And everything that was conspicuous to see, what someone would notice, we tried to include."
Smith said because of its location and other geologic factors, plant diversity within the South Texas Sand Sheet is "very, very high."
"It's a great area that has a lot of plants that are found nowhere else," he said. "It's unique and important, but that also makes it a challenge to identify a lot of the plants that are special to that area."
Smith said because of that challenge, he and Peacock saw the need for a field guide to the native plants found in the region, especially since a resource specific to the vegetation found in the South Texas Sand Sheet did not exist.
"We included all the types of plants that grow in that area," he said. "Grasses, flowers, shrubs, trees, cacti, vines, all included in one volume. We designed it to be a kind of a 'one-stop shop' so you don't have to carry five (separate books) with you when you're out in the field."
Smith said for landowners in the South Texas Sand Sheet, invasive grasses — vegetation that are not native to the area — are "a big concern, particularly for wildlife-focused ranches."
"So we made sure to include all of those species," he said.
For the native wildflowers, Smith said they chose to organize them in the field guide by color rather than by botanical classification.
"So if you can see or know that it's a pink flower, you can go to that section of the book and find it relatively quickly," he said.
Smith said it was important for them to make the field guide accessible to readers who "may not have a traditional botany background," which included utilizing hundreds of photographs he and Peacock took while drafting the book as well as pictures Smith took throughout his 20-year career working in the region.
"The great majority of people who hunt, ranch, recreate or visit that region may not have that background," he said. "And traditional science resources to identify plants are of no use to them because they're often text-based.
"So we really strove to include pictures of what that plant would really look like as you see it from the view of your truck window, along with maybe a closer, more detailed shot in cases of a certain identifying characteristic."
Smith said they also worked to write the descriptions "in a way where non-scientists will understand them."
"Which was a challenge for me, taking the lingo that I use professionally and translate that to something a novice in plants would be able to read and understand," he said. "And Dexter, he was not trained in classic botany or taxonomy, so working together was a good combination to get to what we wanted with the descriptions."
"A Photographic Guide to the Vegetation of the South Texas Sand Sheet" was published through Texas A&M University Press on Nov. 25. It is available for purchase online through tamupress.com and amazon.com, as well as at Barnes and Noble bookstores.
Anthony Ruiz can be contacted at aruiz@king-ranch.com or (361) 221-0251.