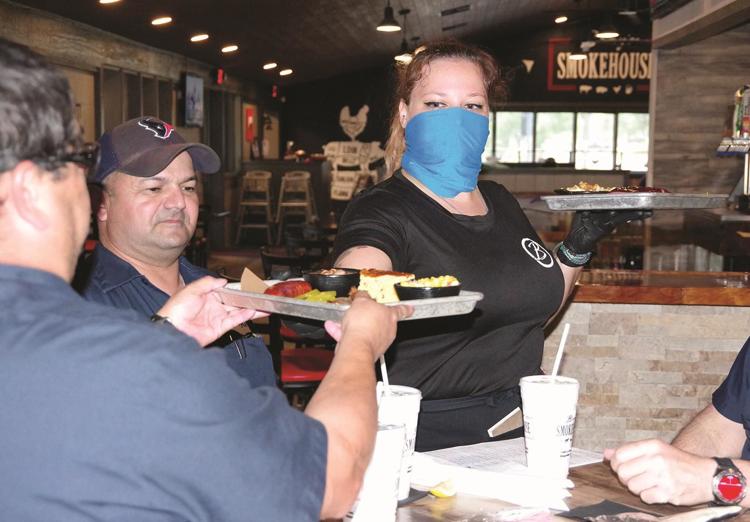 When Bray's Smokehouse reopened its dining area last Friday, Klarissa Mendoza knew that she had to be among the first customers through the door.
"I saw it on Facebook that they were open today (Friday)," Mendoza said. "So we just kept driving around and made sure we were here at 11 a.m."
Before the restaurant was forced to shut down its in-dining service because of the COVID-19 pandemic, Mendoza said she frequented Bray's Smokehouse, located at 1500 Brahma Blvd., "at least once a week."
"This is my favorite place," she said.
On April 27, Gov. Gregg Abbott announced that restaurants, retail businesses, shopping malls and movie theatres across the state could reopen on May 1, albeit at limited occupancy of no more than 25 percent.
"For us, 25 percent is 55 people," Justin
Bray, co-owner of Bray's Smokehouse, said. "And even during the weekend, we weren't anywhere near that capacity."
Bray said since closing his dining area following Gov. Abbott's orders on March 19, business has been "better than I expected."
"But some days are better than others," he said.
In reopening the dining area, Bray said it was important to "do it right," which meant making everything safe for both his customers and his staff.
"There are no shared-use items on any of our tables, and we are keeping customers spread out from one another," he said.
Mendoza said she was impressed with the lengths Bray's Smokehouse is going to give its customers a "clean and safe" experience.
"You can tell that they are doing everything they can to keep us safe," she said. "They're going the extra mile with the (staff wearing) masks, paper menus, making sure everything is sanitized and keeping everybody at a distance."
While Bray said he was ready to reopen, he understands the concerns that many customers and other business owners still have while the COVID-19 pandemic continues.
"I wouldn't have opened if I didn't have a lot of space here," he said. "But it's nice to see the restaurant alive again."
Another restaurant that reopened for dining on Friday was Ol' Girls Kitchen, located at 215 E. Kleberg Ave. in Downtown Kingsville, co-owned by Mary Ann Woodruff and her daughter, Melissa.
Melissa Woodruff said while business had dropped after they were forced to close their dining area in mid-March, they were able to keep going with their curbside service.
"But we missed the people," she said. "And they missed coming in."
For Ol' Girls Kitchen, Melissa Woodruff said 25-percent capacity is 22 customers.
"We're not going to get close to that number right now, though," she said. "And we are taking care of every single one of our customers and their safety. I don't want anybody who comes here to feel