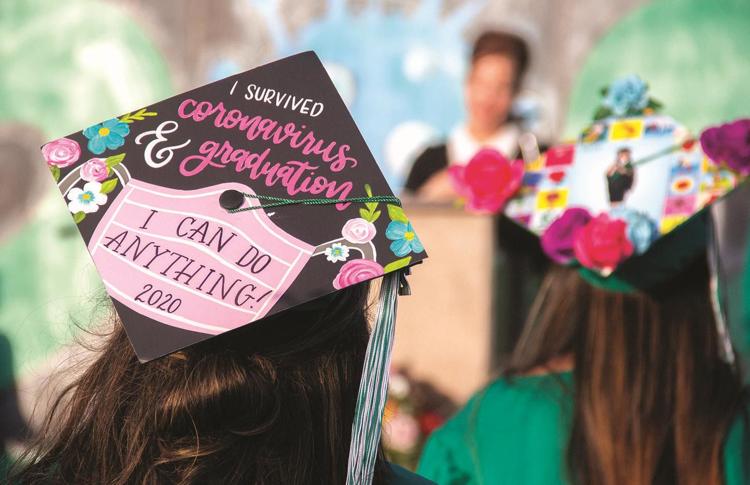 Although the Riviera Kaufer High School Class of 2020's senior year was stopped short because of the novel coronavirus pandemic, on Friday evening nearly 40 students were handed their diplomas and celebrated in a unique graduation ceremony they would likely never forget.
A line formed from County Road 2335 and continued through Riviera as a small parade was held for each graduate to be recognized in their individual vehicles on their way to the front of Kaufer High School.
Riviera residents, teachers and neighbors waved as graduates drove by en route to the campus inside decorated vehicles.
Once at the high school, students walked out of their vehicles and sat in chairs waiting for them in front of a stage where they would later receive their diplomas while their families waited in the parking lot and watched the ceremony take place from afar.
The ceremony began with Kaufer High School Principal Patricia Thornton welcoming those in attendance.
"This is really happening," Thornton said. "Your
graduation is here. We are not Zooming. We are not having a virtual graduation. We are physically here. Welcome. It is with much anticipation and joy that I begin the ceremony."
Thornton then addressed the seniors sporting their cap and gowns in front of her and said the ceremony was "history in the making."
"Every one of us is here for every one of you," she said. "After the roller coaster ride of emotions and all the what is in the last 10 weeks, your hard work, your tenacity and your grit for the past 13 years has paid off. And our graduates, it's paid off big. We are so proud of everything you've accomplished."
Thornton then addressed the boys of the class and the girls of the class separately before saying one final "I love you," to her students.
Class salutatorian Madison West followed at the podium, and began by addressing that she was seeing her classmates for the first time in weeks.
Despite the coronavirus keeping the class apart for the final days of their senior year, West said there is still plenty to appreciate given the circumstances.
"We're willing to stay apart so we can stay healthy and happy," West said. "We know that our friends are there for us when we need them, just a call or text away. We know that people are out there helping each other like never before, donating blood, hosting food pantries, friends and neighbors reacquainting themselves in reaching out a helping hand, are just a few examples of this. So, even in these uncertain times, we know we have the love and support to help us through any and everything."
West shared anecdotes about her high school experience, which drew smiles from the crowd before closing her speech with a special message for her class mates.
"Go out and reach for the stars, follow your dreams and live life to the fullest," she said. What feels like the end today, is really the beginning of a long journey ahead. May God continue to shower us all with love and abundant blessings. Thank you and Gig 'Em."
Class valedictorian Emily Bunger was next at the podium and immediately began her speech with joke after joke about her senior year, the school's freshman class and the "best senior prank" any class could ever pull off.
"Now, I don't have much to say about senior year mostly because this jerk named 'Coronavirus' came and stole it right out from under us," Bunger said. "But on a serious note, I have learned one thing: You never know what you have until it's gone."
Bunger shared multiple anecdotes of her years in high school and her experiences with multiple students and staff, all while drawing laughter from everyone in the social distanced crowd.
As she drew near the end of her speech, she made sure to warn her classmates she had reached the inevitable "reach for the stars part" of her speech.
"Each one of you have impacted me in so many ways and you have also taught me many lessons in friendship along the way," she said. "Each and every one of you have a purpose. And I pray that God guides you every single day of your lives, and you live each day with a grateful heart. Never give up on your dreams. You have one life to live so make the most of it. I love every one of you with all my heart and I can't wait to see what the future holds for you."
Bunger then left the senior class with one final joke to cap off her speech.
"Well, now I'm gonna go delete four years worth of homework assignments from my (phone) camera roll, so I'll see you at the reunion," she said.
Each graduate then walked the stage to receive their diplomas amid the sounds of car horns and noise makers before they dispersed back to their vehicles.
The graduates then lined up once again for an outgoing parade to commemorate their achievement.