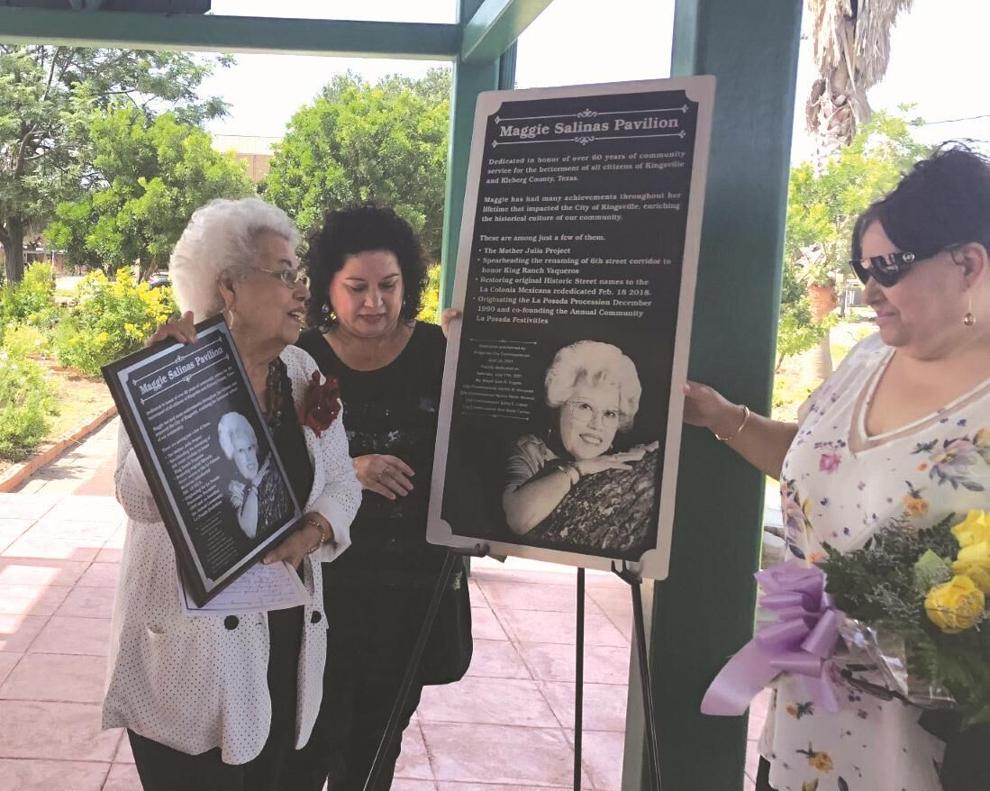 Over 200 people attended the unveiling of the plaque and signs designating the downtown pavilion the Maggie Salinas Pavilion on Saturday.
"Thank you for your presence; it is a proud moment for me and my family," said Maggie Salinas. "I am a mother, community activist, historian, and a small business owner; yo soy Latina," she said. "I'm so grateful for the love and support of so many people."
She also expressed her gratitude to the city of Kingsville for naming the pavilion in her honor. "It is a legacy for me, my family, my friends and the entire community." she said. The City Commission approved a resolution to name the pavilion in her honor on April 26, 2021.
During her speech Maggie said she was born on May 3, 1934 in Kingsville. Her parents Ramon and Damiana taught her Christian values and the need for compassion, sharing, education and a strong work ethic and to be willing to learn from one another and respect people of different social and ethnic backgrounds.
"I did not know at that time that we all have a story to tell and that is called history," she said. "Some of my local projects have been to promote our history to create a cultural zone as a potential for heritage tourism which benefits all. Todos los concemos, we all know each other, so let us highlight the cultural history of our local areas."
"Let us be proud of our local history; coming together is a beginning, keeping together is progress and working together is success," she said.
She also said she has been self-employed since 1965 and began working at the age of 17 with the Kleberg County Welfare Department.
"There is so much to talk about, but let me make you a promise to you that I will continue with my community work, give and love you from my heart always," she said.
The plaque states that the Maggie Salinas Pavilion was "Dedicated in honor of over 60 years of community service for the betterment of all citizens of Kingsville and Kleberg County. Maggie has had many achievements throughout her lifetime that impacted the City of Kingsville enriching the historical culture of our community."
The plaque also stated her contribution to the Mother Julia Project. The plaque states: "She spearheaded the renaming of the 6th street corridor to honor the King Ranch vaqueros; restored the original Historic Street names
to the La Colonia Mexicana rededicated Feb. 18, 2018. She originated La Posada Procession December 1990 and co-founded the Annual Community La Posada Festivities."
Before the unveiling Father Naul gave the blessing. Then several individuals spoke about Maggie's contributions and achievements for the betterment of the community.
Kingsville Mayor Sam Fugate welcomed the audience and thanked Maggie for all her good work. Other speakers included Mayor Pro Tem Hector M. Hinojosa, City Commissioners Norma N. Alvarez, Edna S. Lopez and Ann Marie Torres.
Also speaking were: Kleberg County Judge Rudy Madrid, Kleberg County Sheriff Richard Kirkpatrick, Johnny Macareno with the Kleberg Hispanic Chamber, Texas A&M University-Kingsville Professors Dr. Manuel Flores and Dr. Shannon Baker, former NAACP President Terry Mills of Corpus Christi, and former Kleberg County Judge Pete De La Garza spoke and read a list of Maggie's awards and commendations she has received throughout the years.
DelaGarza related to the audience that Maggie was his maternal cousin and that she helped his family after his mother passed away." She became the matriarch of our family," De La Garza said.
Dr. Flores summed up the consensus of the accolades expressed by the speakers about her dedicated work. "Maggie is a communitarian," Dr. Flores said. "She is an individual who puts community above self and sees the good of the community as good for all its member. "She is totally unselfish and puts community first," he said.
Gloria Bigger-Cantu also read the city of Kingsville resolution.
Several people traveled to the event from Corpus Christi, San Antonio, Houston, McAllen and other area cities.
After the ceremony, a reception was held at the City Hall Community Room with many people present.