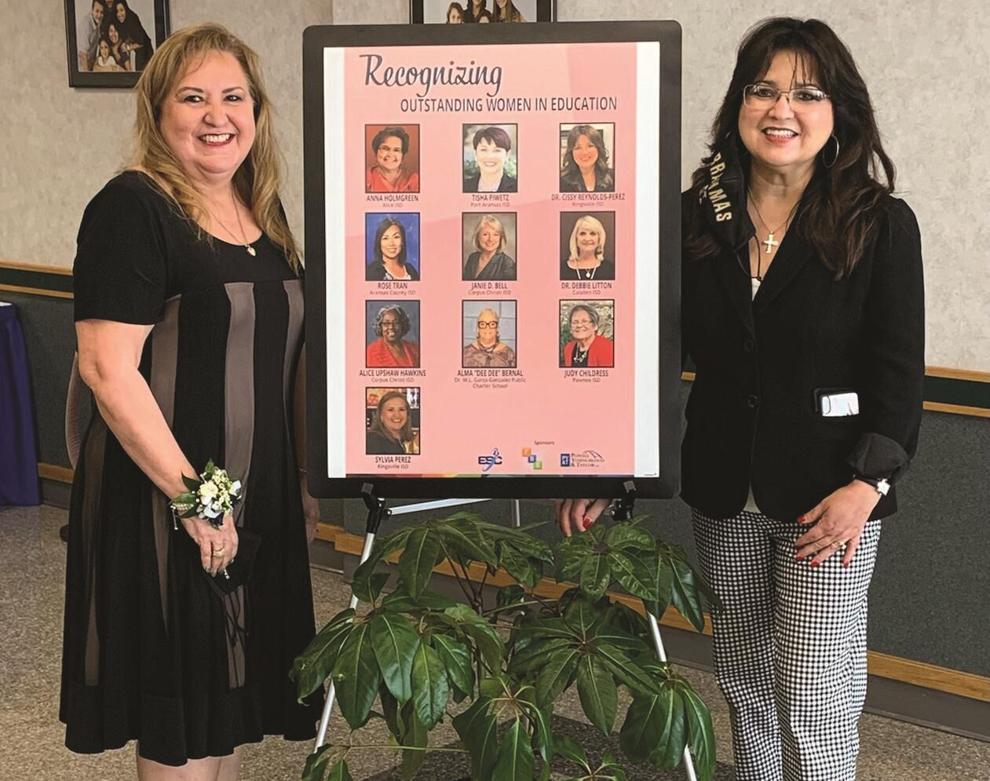 Two Kingsville Independent School District employees were honored for their contributions to education. KISD Superintendent Dr. Cissy ReynoldsPerez and Sylvia Perez, Secretary to the Superintendent, were among 10 women honored in recognition of the 2021 Women in Education for Women's History Month by the Education Service Center, Region 2.
The award is for deserving women who work at any level in the school district's organizations. The KISD honorees along with eight other women in area school districts received a silver apple for their major contributions to education in a ceremony on March 26 in Corpus Christi.
The school districts nominate an individual to be recognized for the Women in Education Award.
"When I first got the call that I was going to be honored for Women in Education through the ESC-2 I thought it was a mistake because I had actually nominated my secretary Sylvia Perez for the award," Dr. Reynolds-Perez said. "Then Dr. Zendejas from the ESC-2 said that my assistant superintendent and special education director had also nominated me. So ultimately KISD had two winners."
Dr. Reynolds-Perez has been KISD superintendent since August 2020 with 32 years in education.
She was nominated by Angie Ramirez, KISD Assistant Superintendent. Ramirez stated in her nomination that Dr. Reynolds-Perez deserved the award because she excelled in the education profession. "She is a proven leader in that she has successfully led campuses to increased performance scores at the elementary, middle, and high school levels, "Ramirez stated.
Ramirez stated that Dr. Reynolds-Perez was an effective assistant superintendent
at West Oso ISD and now she is also successfully leading Kingsville ISD as superintendent.
"In working with her closely this year, I admire her ability to quickly build relationships with the staff and community. Dr. Perez is a strong, confident leader who sets high expectations yet understands the importance of relationships, compassion, and support. And equally important she models effective communication and transparency with parents, teachers, staff, students, and community, "she stated.
Sylvia Perez said she was honored to receive this recognition. "My 30 years of dedication and commitment allows me to impact the services provided to staff and students."
"We are blessed with great leadership and I am confident that the continued hard work moving forward will bring great success. I am thankful to be a part of the KISD family," she said.
In nominating her, Dr. Reynolds Perez made these statements "I am the new superintendent at the Kingsville ISD. Since my arrival, a few months ago, it is Sylvia who has literally been a guiding light for me and for the new leadership team that I have hired."
"Sylvia knows the history of KISD and respects the needs of the district," the superintendent stated. "She thinks of things in a very proactive approach."
Dr. Reynolds-Perez stated that "Sylvia does all of her duties and beyond in a quiet, respectful manner without complaining. She offers extra help to everyone who walks in the door. She has a sincere desire to help our team to transform KISD to new heights."
"Sylvia is resourceful, helpful, kind-hearted, creative, innovative, respectful, faithful and trustworthy. She is every positive adjective that could possibly describe," she stated.
"God has sent me many angels to help transform KISD, but Sylvia was the first one I had the honor of meeting," Dr. Reynolds-Perez stated.
The ESC-2 is a nonprofit providing services and programs to schools and other community agencies and serves 41 school districts and seven charter schools in 11 Coastal Bend area counties.