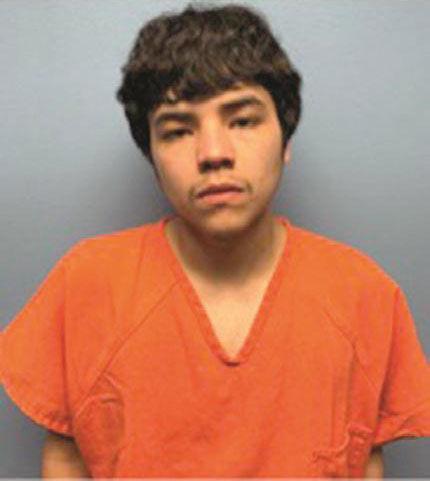 The Kingsville Police Department arrested Kingsville resident Eli De La Garza after allegedly shooting another man early Saturday morning in a Kingsville neighborhood. Police have charged De La Garza with aggravated family assault with a deadly weapon, a first degree felony.
According to a press release by KPD officials, officers responded to a call of shots fired at a corner house at the intersection of Caesar Avenue and Seventh Street at about 4 a.m. on Saturday, June 6.
Police began a search for De La Garza, who allegedly had shot a man.
The release states officers arrived in the area and found the gunshot victim just east of the residence on Caesar with a gun shot wound to his upper leg.
An officer applied a tourniquet just above the
wound to stop the bleeding as they awaited Kingsville Fire Department EMS personnel. First responders then transported the man to Christus Spohn Hospital Kleberg.
According to the release, the man told officers De La Garza was in the house at the 300 block of E. Caesar.
KPD personnel attempted to make contact with De La Garza and others who may have been inside the residence.
Contact was made with individuals in the residence and they were asked to bring De La Garza out from the residence, officials said.
A woman who had received the phone calls was allegedly "so intoxicated that she was unaware of the shooting that had taken place."
After several hours of negotiations, and the breaching of three doors to the residence, a 19-year-old woman, 45-yearold woman, a male juvenile and De La Garza all came out of the residence, where De La Garza was arrested without incident.
The man who had been shot was stabilized and transported to Christus Spohn Shoreline in Corpus Christi and is being treated for his injuries.