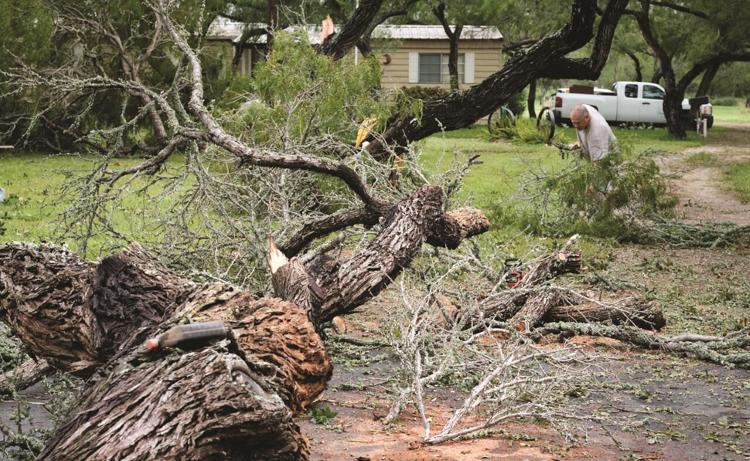 Hurricane Hanna has come and gone in the Coastal Bend, as Kingsville, Bishop, Ricardo and Riviera saw the impacts of the Category 1 storm from Friday until Sunday.
The storm made landfall on Saturday out in Padre Island before making a secondary landfall in Kenedy County, about 40 miles south of Riviera.
Although the storm made landfall a few miles away from the Kleberg County and Bishop areas, local officials took extra precautions in the area to ensure the safety of residents in the area.
The City of Kingsville also took precautionary measures by first offering sand bags to area residents at the Kingsville Public Works site on Friday morning, as well as offering self-serve sand to local residents at the Trash-Off location on Avenue B and Sixth Street.
Both sites continued to provide service to residents until 4 p.m. on Friday, as the self-serve sand site was replenished four times to make up for need.
As the storm continued to form on Friday afternoon, Kleberg County Judge Rudy Madrid had issued a voluntary evacuation order for Loyola Beach, Baffin Bay, Ricardo and Riviera areas, due to "an imminent threat of danger," caused by then, Tropical Storm Hanna.
Madrid later that afternoon also ordered the beaches in Kleberg County to be closed.
On Friday evening, both Madrid and City of Kingsville Mayor Sam Fugate signed Disaster Declarations for the area, as well as Texas Gov. Greg Abbott, in order to seek assistance for the damage the storm may have caused.
Saturday morning, Madrid activated the FEMA dome at H.M. King High School to be used for residents seeking shelter from the storm.
Officials said multiple residents sought shelter at
the dome, which was activated for public use for the first time since being constructed.
Throughout the day on Saturday, the wind and rain was strong enough to cause some damage to area residences, stores and other properties, mostly in the Riviera and Ricardo areas.
The Riviera Pier was damaged, as well other piers belonging to residents along the Baffin Bay waters, Madrid said on Monday.
Throughout the weekend, local government leadership was in contact with Nueces Electric Cooperative and AEP Texas crews who worked to restore power to nearly 2,700 residents in the area.
AEP Texas representatives said on Monday that only 10 customers in Kingsville were without power, as 67 percent of all impacted customers had their power restored.
Both the City of Kingsville and Kleberg County officials are still doing damage assessment as of press time, and are asking area residents to report any damages to the Office of Emergency Management.
At Monday's Kleberg County Commissioner's Meeting, Judge Madrid said he wanted to thank the county and city employees and residents for their efforts during and after the storm hit the area.
"We did a tremendous job working together," Madrid said. "Thank God the City of Kingsville missed the brink (of the storm), but (Baffin Bay) didn't. There's a lot of people out there, during a time of pandemic when funds are limited, who lost a big portion of their property... we need to be cognitive of that."
Clean up efforts will continue, Madrid said, throughout the week, by the county and City of Kingsville personnel.