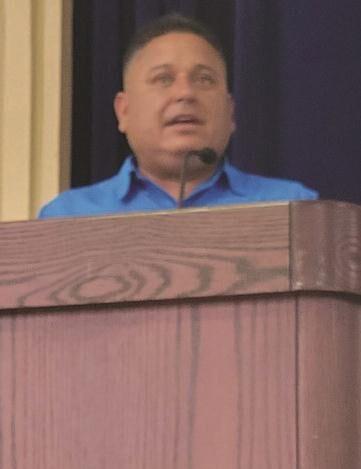 Over 230 people attended the Kingsville Chamber of Commerce sponsored State of the County event on Thursday, Sept. 15 in the Student Union Building ballrooms on the campus of Texas A&M-Kingsville.
County Judge Rudy Madrid was the featured speaker, as he spoke for almost an hour on issues confronting the county and things the county has accomplished in the course of the past number of years.
This was the first State of the County event in a few years, as COVID forced the postponement of the annual address during the height of the pandemic.
Manny Salazar, the Chief Operating Officer of the Chamber, welcomed the huge crowd to the sold-out event, and then showed a new video put together by the county for promotional purposes.
Judge Madrid was introduced a little later, and after a few opening remarks, he walked the crowd through a number of things the county has been doing and intends to do in the future for the betterment of the county.
The Judge highlighted recent heavy equipment purchases for the
various precincts and fire departments, noting over $1 million in heavy equipment purchases have been done out of ARPA funds and not local general reserves.
The Judge also highlighted the counties remarkable response to COVID, claiming Kleberg County was one of the leading counties in the state of Texas in confronting the virus. The Judge pointed out the vaccination clinic is still open, and that the Emergency Operations Center at J.K. Northway is moving forward ahead of schedule.
The Judge pointed out the county was in much better financial shape, and thanked his fellow commissioners for their support. He also noted the great working relationship he has with Mayor Sam Fugate, the City of Kingsville and specifically took time out to recognize the great job City Manager Mac Maclaughlin is doing. The Judge also recognized Sister Elizabeth, who is retiring in the near future.
The Judge praised area firefighters and first responders, the Baffin Bay water project, fishing piers, boat ramps and other actions the county is taking to make Kleberg County as self-sufficient and business friendly as it can be moving into the future.
The Judge's speech was well received, and a lot of socializing was done following the speech.