Like any ordinary weekday, the Cherry Tree Tea Room opened its doors at 10:30 a.m. Wednesday for what would typically be the start of the lunch crowd. 
Opened in 2007, the popular restaurant located at 230 E. Kleberg Ave. in Downtown Kingsville is usually bustling with activity well before noon as residents and visitors alike fill the space and enjoy their meals. 
That all changed, however, with the threat of the novel coronavirus – often referred to by its abbreviated name COVID-19. 
COVID-19 has deterred large - and in some cases even small - public gatherings, with Kleberg County and City of Kingsville officials passing orders limiting those groups to 50 or less.
On Thursday, Texas Gov. Greg Abbott announced an executive order limiting social gatherings to 10 people, as well as closing bars and restaurants from operating in-dining while still allowing for takeout or delivery service.
The order goes into effect at 11:59 p.m. Friday and will continue through 11:59 p.m. April 3.
"Business has always been great," said Angelina Pena, a server who has worked at the Cherry Tree Tea Room since 2011. "Of course, Spring Breaks and sometime summers are a little slower, but these last couple of weeks have definitely been much more difficult than it's ever been." 
An hour after opening on Wednesday, the staff at the Cherry Tree Tea Room were still waiting on their first customer. Tables decorated with red tablecloth remained empty and outside of the occasional phone ring, the room remained silent except for the sounds of cars passing outside. 
Pena said she and the rest of the staff couldn't help but fear a repeat of the day before, when no more than four people came in that day to order lunch. 
"It's a big deal to us because we count on people coming in, so it's scary when it's like this," she said. 
Local restaurants and businesses across Kingsville have been similarly sparse for the past couple of weeks. That's because residents have placed themselves under self-quarantine or, at the very least, do their best to avoid potentially crowded areas to help mitigate the potential spread of COVID-19. 
Thus far, there have been no confirmed cases of COVID-19 in Kleberg County. But county leaders announced on Wednesday that they were establishing a remote off-site collection site at Presbyterian Pan American's FEMA Dome that would open Saturday. The site is meant to take samples from individuals referred by medical professionals who may have symptoms associated with COVID-19. 
Amanda Cherry, owner of the Cherry Tree Tea Room, ran the gamut of emotions during her interview. She showed signs of frustration and sadness as she talked about what the future may hold about the business she started 13 years ago.  
Cherry said the restaurant and catering service had been booked for several events until up until a week ago when "everything was canceled." 
"Every organization that meets here, every event we had is gone," she said. "So we probably won't survive."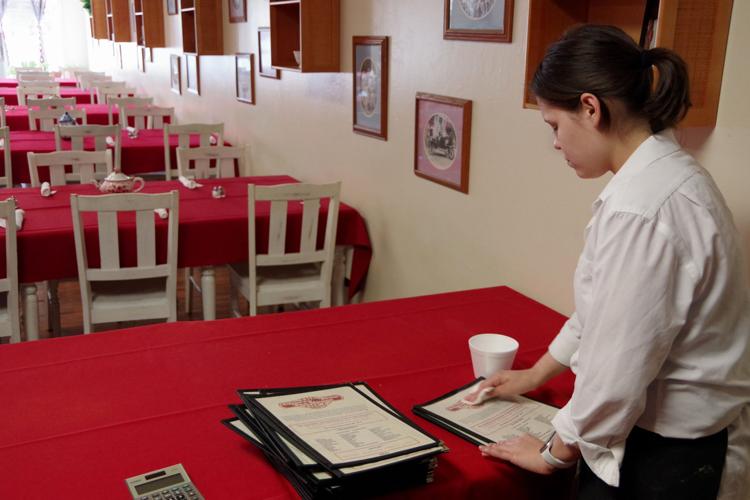 As concerns over COVID-19 continue to mount, state and federal governments have issued guidance discouraging large gatherings in public. 
Earlier this week, City of Kingsville and Kleberg County officials passed resolutions limiting the number of people gathering in the county - outside of a few exceptions for grocery stores, medical facilities and certain government buildings - to no more than 50 in one place.
Those resolutions were later superseded by Gov. Abbot's executive order, prohibiting eating and drinking at restaurants and bars and limiting social gatherings to no more than 10 people.
Prior to that executive order, Cherry said she felt the city and county resolutions were "premature and uninvestigated (sic)," and had already been "taking a dramatic toll on a lot of us." 
"And not just the limit of 50 people," she said. "I feel like it increased panic in town and I feel like our city jumped the gun. Maybe the limit wouldn't have affected us, but for other restaurants I know that it does." 
One such local restaurant that was directly affected by the resolutions was Bray's Smokehouse, located at 1500 Brahma Blvd., which has an occupancy capacity of about 250 people. 
"So 50 people, that's 20 percent of my capacity," co-owner Justin Bray said. "Going from full capacity, plus another 30 to 40 people on the waiting list, to no more than 50 people is a big difference." 
Bray said the resolutions "do not effectively enforce social distancing at every restaurant." He said setting the limitations on a percentage of the building's maximum occupancy, rather than a set number, would have better addressed social distancing concerns without having such a detrimental effect on larger businesses. 
"Fifty people would fit in my bar and main dining room area with every other table open," he said. "So I have two entire rooms that are empty." 
David Thibodeaux, owner of the Salazar Building located at 200 E. Richard Ave., said the effect that COVID-19 has had on local businesses – even without any confirmed cases in the county – has been "devastating" and "unprecedented." 
"I don't think anyone could have imagined it or seen it coming," he said. 
Thibodeaux said his business, which provides an event space for weddings, parties and other social gatherings, is seasonal. As such, he plans for months where the Salazar Building does not host events. 
"So one month of no business, I can probably manage," he said. "If it lingers longer than that, it starts to get scary just for me. And I think a lot of people have it worse, to be honest."
'It's a ghost town' 
But even before the limits on social gatherings, local restaurants had already been experiencing lower turnouts and declining orders. 
Zohair Charania, owner of the Spice Station restaurant located at 1030 E. Lott Ave., said business is down at his restaurant by almost 40 percent. 
"Normally, we're packed with people," he said. "But as long as my vendors are still delivering me the product, I will be open. If it stops, then I'll have to close." 
Charania said he has cut down on his food orders and canceled his catering services for the time being. In addition, his second location inside Texas A&M University-Kingsville's Student Union Building has been closed since before Spring Break. 
"We were averaging about 600 people a week," he said. "So that's hurting me a lot, but nothing that would shut us down." 
Bray said his restaurant saw "a pretty steady decline (last) weekend," and prior to the executive order, he had expected an even bigger drop heading into this weekend. 
"And I'm having a real hard time figuring what to order," he said. "Canned good and freezer items aren't as big of a deal as throwing away cases of brisket, ribs and other high-dollar items." 
Bray said he is doing his best to order just enough of some food items to last him through the day.  
"Even in these times, I refuse to serve reheated barbecue," he said. "I won't do it, and the only alternative to that – until we figure out what this (outbreak) really looks like – is to run out of some of the items every day to ensure that I'm not throwing it away."  
For Cherry, the decline in business is a mirror of the surreal time everyone seems to be living in because of the threat of COVID-19. 
"It's a ghost town," Cherry said. "I have never seen it this bad." 
"Every night, I can't sleep," she added. "I just try to think about what I'm going to do. Do I batten down the hatches and ride this storm, and hope and pray that in two weeks we're going to see a change? Do I just throw in the towel, shut down and maybe join the workforce myself? It's just hard." 
One area that has seen an increase for local restaurants, however, has been with their curbside, carryout and drive-thru services. 
"People have been really supportive going through our drive-thru," Charania said. "People want to sit down and eat, but nobody wants to get sick." 
Charania said he is also looking at home-delivery options, but has not found any to be cost-effective at this time. 
Bray said his restaurant has been working to ramp up its carryout services, and is also considering ways to expand delivery options. 
"We've always had a dedicated carryout and offered delivery on large preorders," he said. "But I want to open that up to residences, too. I'm looking at what makes the most sense in terms of items that will hold up well. I plan on announcing something and rolling that out within the next day or two." 
Thibodeaux encouraged Kingsville residents and those in the surrounding areas to not forget businesses like local restaurants, who can hopefully still be supported with drive-thru or carryout options. 
"With social distancing, drive-thru and carryout are what these businesses are having to do just to survive," he said. "And I highly encourage people to go to these restaurants and support them all that they can." 
For the customers who were dining in, restaurant staff and management had worked hard to sanitize and disinfect tables, chairs and other surfaces on a constant basis. 
"There are a lot more steps to ensure the safety of people," Bray said. 
Pena said the Cherry Tree Tea Room has always had high standards for its cleanliness, even before COVID-19. 
"We do what we can to make sure that everybody who eats here is getting the cleanest product that we can offer," she said. "The kitchen is scrubbed top-to-bottom and we've always kept a really, really clean restaurant." 
Charania said his restaurant had suspended its weekend self-serve buffets, opting instead to personally serve the food directly to the customers. 
"So it's still all-you-can-eat, but we will serve you," he said. "That way, we are the only ones handling the food. I'll serve you a new plate every time."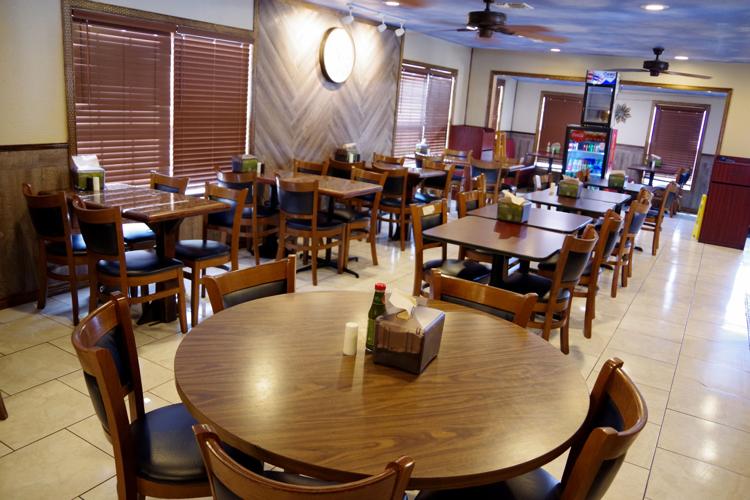 While to-go orders are helping restaurants continue operations, the sharp decline in catering and in-dining has taken a hefty toll on their staff, from cut hours to the loss of tips. 
Bray said he has 77 employees currently on staff, but the decline in business led to him having to cut down hours. 
"If I only have 50 people that I can serve at once, then instead of scheduling seven or eight servers, 10 on the weekends, a third of my wait staff is all that I need at every shift," he said. "It's a tough position for us as business owners."
With restaurants now closed outside of takeout and delivery, even further cuts are likely on the way.
Cherry said she currently has six people on staff at her restaurant. Her catering staff, which are comprised of "call-ins," totals about 25 people. 
"But those are just one-job work (positions)," she said. 
The lack of catering work has been "absolutely detrimental" to her business, Cherry said, as "it's what keep this (restaurant) afloat." 
"We had some (catering jobs) that were for 450 people cancel," she said. "Those are huge events. We had some booked with the Navy, which all of their events have closed. We have one big corporation in town that are still able to order takeout to feed their employees, which is helping us a little bit, but it's most definitely not going to make my payroll." 
Cherry said to help out her staff, she has been providing free meals for them "so it doesn't come out of their pocket."  
"Because it's just not fair right now," she said. "They can't live and support their families on tips of $4 a day." 
To further cut costs, Cherry said she has also had to alternate hours with some of her kitchen staff, many times filling in the duties herself. 
"I cannot afford a dishwasher and a line cook every day," she said. "So I'm swapping where one day's the dishwasher and one day is the line cook, and I'm doing the other barter of the job just to make sure we make it." 
Before Gov. Abbott's executive order, Pena said she understood why people are reluctant right now to eat in restaurants, but worried about what the lack of business could mean for her own future. 
"Personally, I have two very young children, and it gets scary when it's like this," she said. "One is in Santa Gertrudis (School), so I pay tuition for him, and the other is in day care, so I'm paying for her every week. Not having a job for even a few days would be devastating because I can't provide for them with no income." 
Pena said she also worried about being able to find another job given the current situation. 
"Because why would anybody hire new employees right now when they can't even house the employees that they have?" she said. 
Thibodeaux said he felt nobody was prepared for what COVID-19 has done to disrupt everyday life in Kingsville. 
"Mentally or emotionally," he said. "It's naive to think that it won't eventually come to Kingsville, and there's a fear factor to that." 
While Thibodeaux said he is optimistic about the future, going forward Kingsville "will have to adjust to new norms." 
"It's stressful not just for me, but everyone," he said. 
Cherry said many of Kingsville's local business owners have been in constant contact with one another as they face an uncertain future. Prior to Gov. Abbott's executive order, she said she had been "literally waiting for our local government to tell me that I can't open my doors." 
"I don't know how long we're going to have here," Cherry said. "And I don't know – if we were made to close – if we would come back at all." 
With the COVID-19 threat changing what is normal for everyone on a daily basis, Bray is asking that Kingsville residents be patient with local businesses during this uncertain time. 
"Especially restaurants," he said. "We're all playing a guessing game right now, and if you have a favorite dish that (a restaurant) is out of, it's for a good reason. 
"It's different times and all new ground for all of us, and we're doing our best to stay open and still offer something to the community," he added.